Best Jigsaw Puzzle for Grandad
Is Grandad's Workshop the best jigsaw puzzle for Grandad?
Jigsaw puzzles can provide an invaluable mental benefit, and nostalgia has been proven to be so powerful in adding meaning & value to our lives.
I was Product Development Director at Gibsons Games developing jigsaw puzzles for over 23 years, and Grandad's Workshop is still my favourite jigsaw puzzle ever!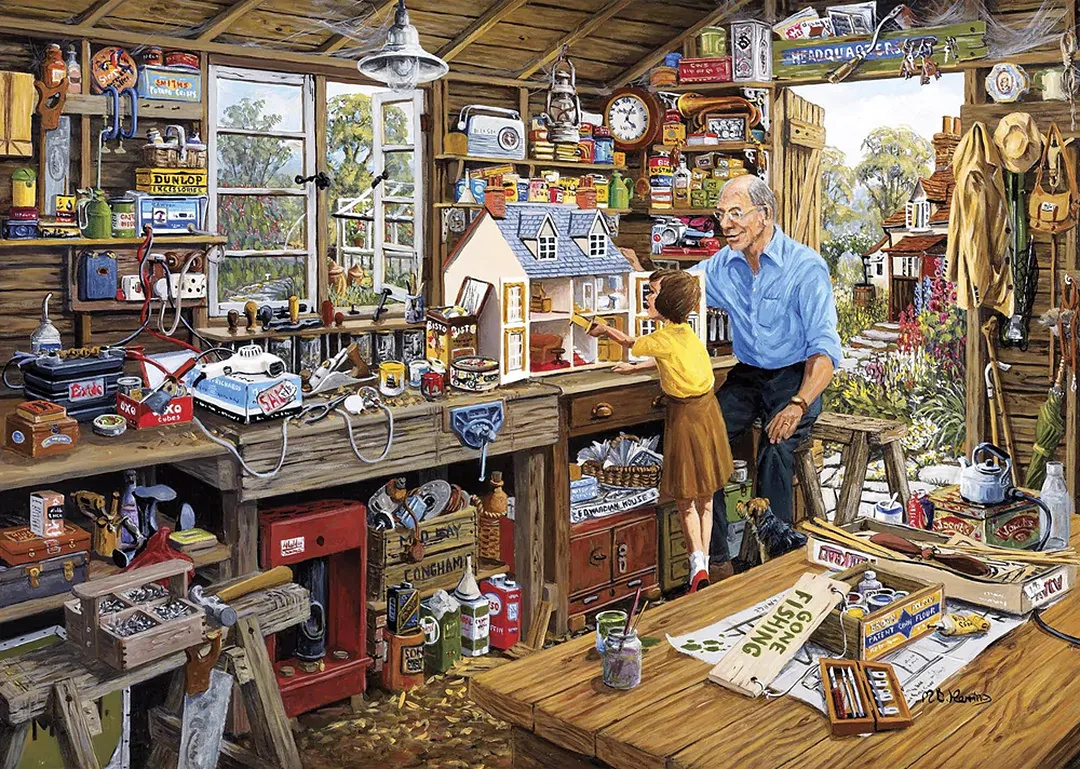 This website is supported entirely by my kind readers - thank you so much for visiting! There are no adverts, and I don't accept any payment for reviews or sponsorship of any product. Instead, there are some links where, if you buy something, I may earn an affiliate commission. As an Amazon Associate, I earn from qualifying purchases at no cost to you. If you do choose to buy through my links - a genuine big thank you!
Geoff's favourite puzzle!
The meaning of Nostalgia
Hovis, the 'Good old days'. What is Nostalgia?
The Greek words "nostos" (return) and "algos" (pain) combined to make "nostalgia" in 1688. Surprisingly it was only since 2000 that nostalgia was seen as being much more positive – helped by the Greek – Constantine Sedikides:
"Connecting the past with the present, pointing optimistically to the future".
"It is like creating an inexhaustible bank account which is there for you if you want to withdraw from it."
"Nostalgia helps us remember that our lives can have meaning and value, helping us find the confidence and motivation to face the challenges of the future." Professor Clay Routledge
Nostalgic Jigsaw Puzzles
How can nostalgia be used in jigsaw puzzles? Childhood toys, Cars?
Two well known nostalgic jigsaw puzzle artists are Trevor Mitchell (left) and Kevin Walsh (right).
Their insights into the 1950s and 1960s nostalgia have been very popular amongst jigsaw fans for decades.
"Most people have at least one nostalgic memory that they cherish and that they can use repeatedly."   Tim Wildschut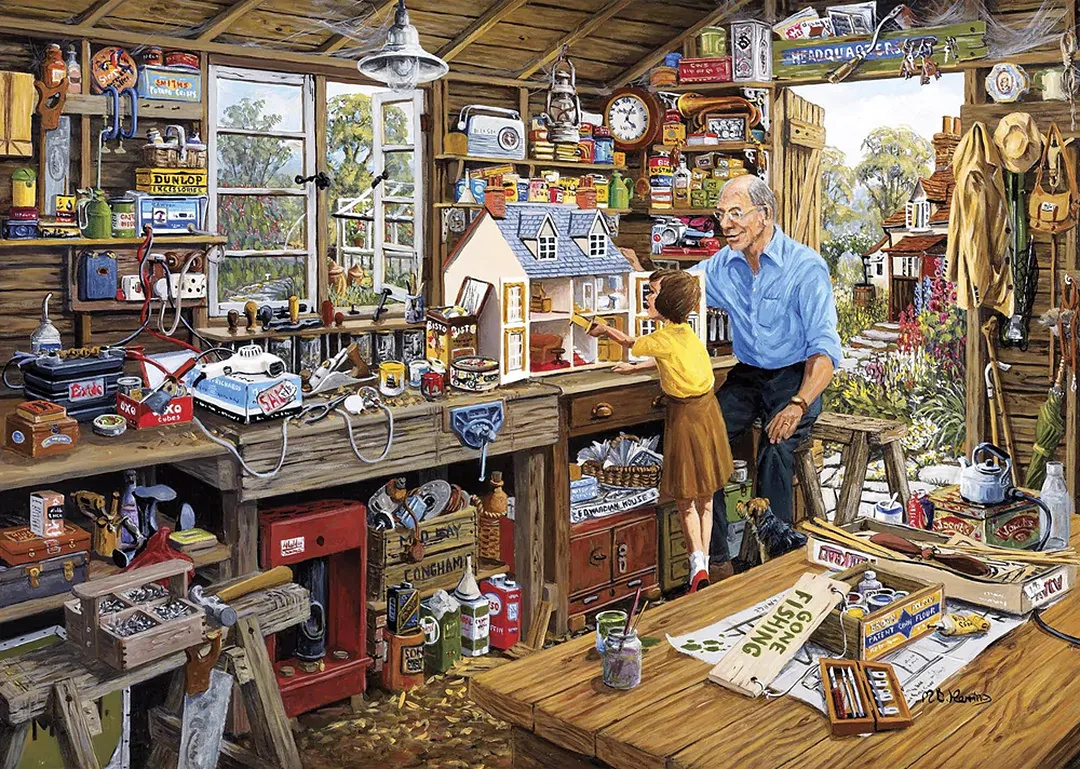 Grandad's Workshop jigsaw puzzle
This is Grandad's Workshop jigsaw puzzle by Michael Herring, made by Gibsons.
Some would call it organised chaos. Old tins of paint that were last used years ago, rusty tins of screws and nails, bottles of varnish, and pots of dried up putty are kept just in case. This Aladdin's cave, with its own special smells, wood shavings and cobwebs is Grandad's haven. 
Did you spot … Michael's Hairdryer
Did you spot the hairdryer? (use the magnifying glass above if not)
This is a painting by Michael of his own hairdryer.
One of many personal items, including the Doll's House.
"I saw the picture and it brought back vivid memories of my late father.
He had a garage/workshop full of things that were included in the painting,
the radio, the Morphy Richards hairdryer, the workbench"
The Story behind Grandad's Workshop jigsaw puzzle
It must have started in 2008, as I remember it took must have taken over a year for Michael Herring to paint.
I had a few enjoyable phone calls with Michael during that time – mainly Michael telling me it was nearly finished!
I was so fortunate to see the actual painting. The jigsaw puzzle looks great (thanks to CGS photographers in Ewell!) but the colours & texture of the painting in real life are incredible.
Sadly, this was the very last painting to be published as a Gibsons jigsaw puzzle by Michael, as he passed away in August 2010.
Grandad's Workshop jigsaw puzzle reviews
"Every year it is tradition to buy my grandad a jigsaw for Christmas. It has started to become challenging as he must now have every single one. Until I came across this one on Amazon! Perfect! And what's more grandad has a workshop just like this which I used to play in. The detail is amazing and I know it will be a challenge for him to complete so won't finish it in a few days-a good sign of keeping him busy."
"I saw the picture and it brought back vivid memories of my late father. He had a garage/workshop full of things that were included in the painting, the radio, the Morphy Richards hairdrier, the workbench, etc, etc. Most poignant of all, my Dad made me a dolls house and the furniture inside which I still have and treasure to this day. I appreciated reading the notes about the late artist too.
Thank you so much, this puzzle is a real joy."
"When I noticed this jigsaw puzzle on the website, I "just had to" purchase it in readiness for a birthday present for a Grandpa who has a garage that looks not too dissimilar to the picture on the puzzle. I have to wait a couple more months before the birthday comes around
– I can't wait to see Grandpa's face when he unwraps his gift."
So … the Best Jigsaw Puzzle for Grandad? A Perfect Gift!
In a recent poll, visiting Grandparents came third on people's favourite childhood memories.
Sometimes though, Grandad may live just a little too far away, so what else can we do?
Does Grandad love talking about happy memories and want to keep his mind in top shape? If Grandad has ever built a doll's house or had a garage or workshop, this jigsaw puzzle could be the best gift for Grandad!
You can buy Grandad's Workshop jigsaw puzzle from Gibsons in three different piece counts, so you can choose which is the most suitable.
 I hope you enjoyed my very first article
It was an absolute honour for me to write about Grandad's Workshop by the wonderful Michael Herring.
It holds a special place in my heart, as one of the jigsaw puzzles I helped to develop in my amazing 23 years at Gibsons.