WASGIJ Solutions & WASGIJ Puzzle Lists
Latest Wasgij Jigsaw Puzzles
Are you missing any?
This website is supported entirely by my kind readers - thank you so much for visiting! There are no adverts, and I don't accept any payment for reviews or sponsorship of any product. Instead, there are some links where, if you buy something, I may earn an affiliate commission. As an Amazon Associate, I earn from qualifying purchases at no cost to you. If you do choose to buy through my links - a genuine big thank you!
WASGIJ DESTINY 170
Years of Jumbo Special Edition now available 
By the original Wasgij artist Graham Thompson!
Street parties have always been a great way to mark a big occasion! Family, friends and neighbours are all making sure the kids have plenty to eat and plenty to play with. Jumbo has been there longer than Grandad can remember. Long before the 1978 royal warrant he's reading about in his newspaper.
The same families have got together to mark 170 years of Jumbo.
But what games and puzzles have caught the next generation's imagination?
What are the special treats and surprises crowding the table, and how are they celebrating today? This is the scene you have to puzzle!
WASGIJ DESTINY 26 ORGANIC OVERLOAD!
 now available 
By James Alexander
There's nothing like the hustle and bustle of a lively street market to tickle the taste buds and get mouths watering. So much choice, so many colours, so many deals. But how things are changing. Family favourite recipes are making way for takeaways and new takes on organic options, meat-free menus and vegan varieties of everything.
Ideas and recommendations are as likely to come from social media influencers as butchers and grocers. These days, it all has to be edible, credible and sustainable. So what does today's market square look like? This is the scene you have to puzzle!
What does 'WASGIJ' mean?
Wasgij is 'Jigsaw' spelt backwards and is offically pronounced as 'Woz-gidge'
What is a WASGIJ Puzzle?
It's hard to explain, but the picture on the box is not the puzzle picture. There are people featured on the box, and they are looking at something, generally with some horrified look!
The puzzle picture is what these charcacters are looking at.
So you must use your imagination (although you get a few visual hints & clues).
WASGIJ ORIGINAL puzzle list
I have assembled below all 43 Wasgij Original puzzles below (copyright Jumbo).

It is interesting to see how the overall style has remained relatively unchanged over six different Wasgij artists.
Perhaps there are more vibrant colours and 'busier' scenes as digital techniques have been introduced.
If you would like a printable copy of the full list including Wasgij 43,
just subscribe at the bottom of the page, and I'll email it to you!
(Hover or click on the image to use the magnifying glass & see more detail)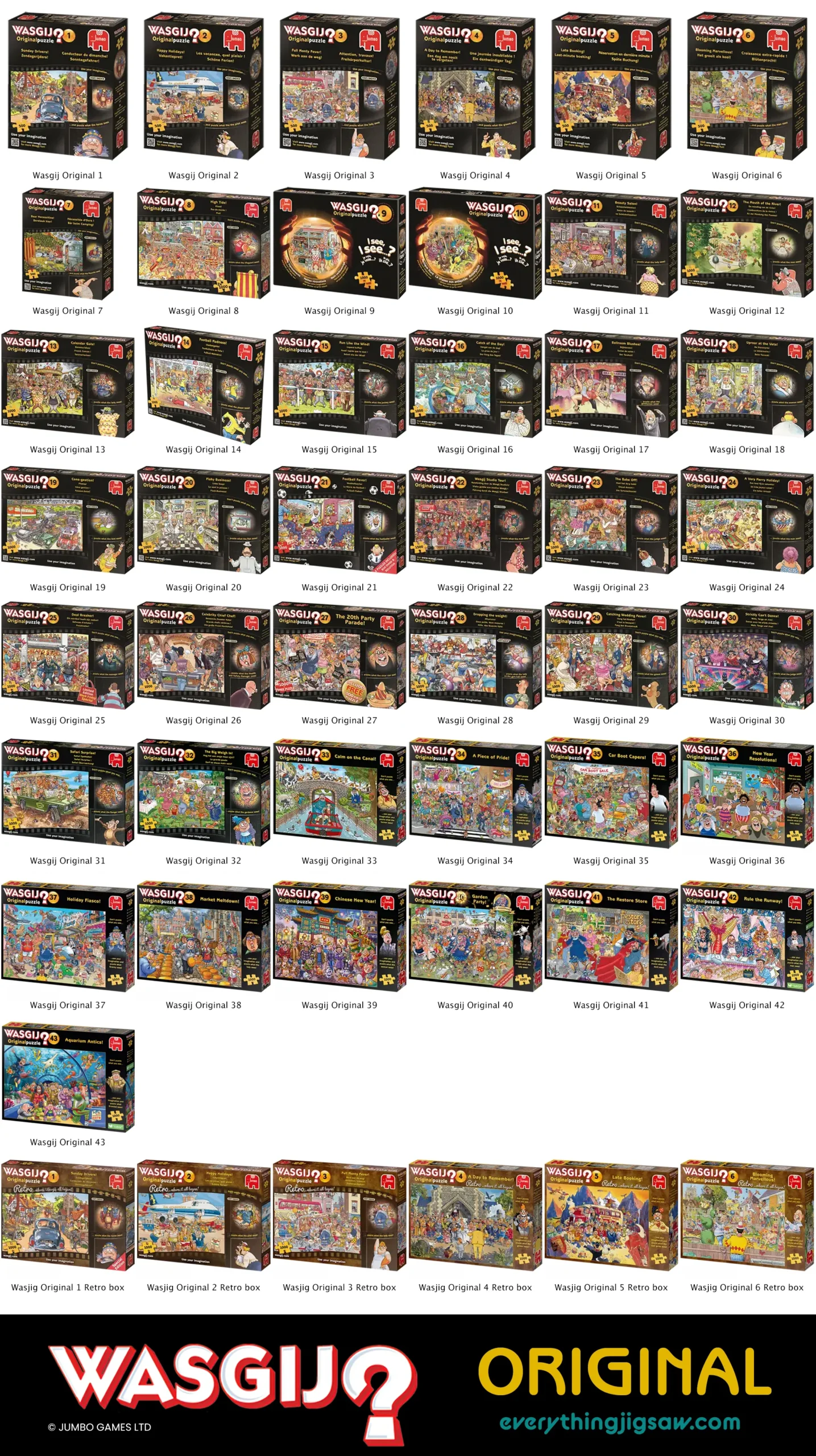 All 43 WASGIJ ORIGINAL Puzzles in less than 2 mins!
See my latest YouTube video below
WASGIJ ORIGINAL – Solutions & Latest Prices
Fun facts about WASGIJ Puzzles
The first seven Wasgij puzzles were 500 piece puzzles, and the first six so far have been re-released as 1000 piece Wasjig Retro puzzles.
There was a radical box design change with Wasgij 9 & 10 – with the use of a Crystal Ball and a new strapline of 'I see, I see … ?' This looked good visually but didn't really make much sense and the 'film strip' theme came back for Wasgij 11 and lasted until Wasgij 32.
Multi language titles stopped in 2020 with Wasgij 33 Calm on the Canal – along with the 'film strip' theme (I assume because nobody knew what a photograph 'film strip' was, and cameras were all digital by then. Information for my two sons –  a film strip was a roll of light sensitive film containing either 24 or 36 shots per roll, which when full, had to be taken to the local shop for processing before you got your photos back a week later!
Wasgij themes have always been topical. The Great British Bake Off TV series started in 2010 – followed by Wasgij 23 – The Bake Off! in 2015. Recent topical TV based themes include 'Strictly Can't Dance' and 'Restore Store'.
Granny Wasgij has appeared multiple times and celebrated the 25th anniversary of Wasgij in 2022
There have been six different Wasgij artists – Graham Thompson (1997-present), Bill Houston (2014-5),  James Alexander, Neil Easton (2015-8), Dick Heins (2019-21) and the latest Paul Gibbs (2019- present).
There are now five different types of Wasgij puzzle – Original, Destiny, Mystery & Christmas. More about these and the latest Eurosound (or Eurovision Wasgij) later!
One Wasgij Mystery puzzle doesn't have a number! See below to find out which and why?!
WASGIJ DESTINY 26 - Organic Overload
Wasgij Destiny 26 – Organic Overload just released!
WASGIJ DESTINY puzzle list
NEW! – Wasgij Destiny 26 – Organic Overload just released!
Wasgij Destiny is where you have to imagine what the scene on the box will look like in the FUTURE!
WASGIJ DESTINY solutions and latest prices
All the Wasgij Destiny solutions and latest pricing
WASGIJ MYSTERY puzzle list
There is one Wasgij Mystery puzzle without a number.
It is Wasgij Mystery World of Wonder – produced exclusively to celebrate the 70th anniversary of Efteling Theme Park in the Netherlands.
WASGIJ MYSTERY solutions & latest prices
WASGIJ CHRISTMAS puzzle list
All Wasgij Christmas puzzles shown below.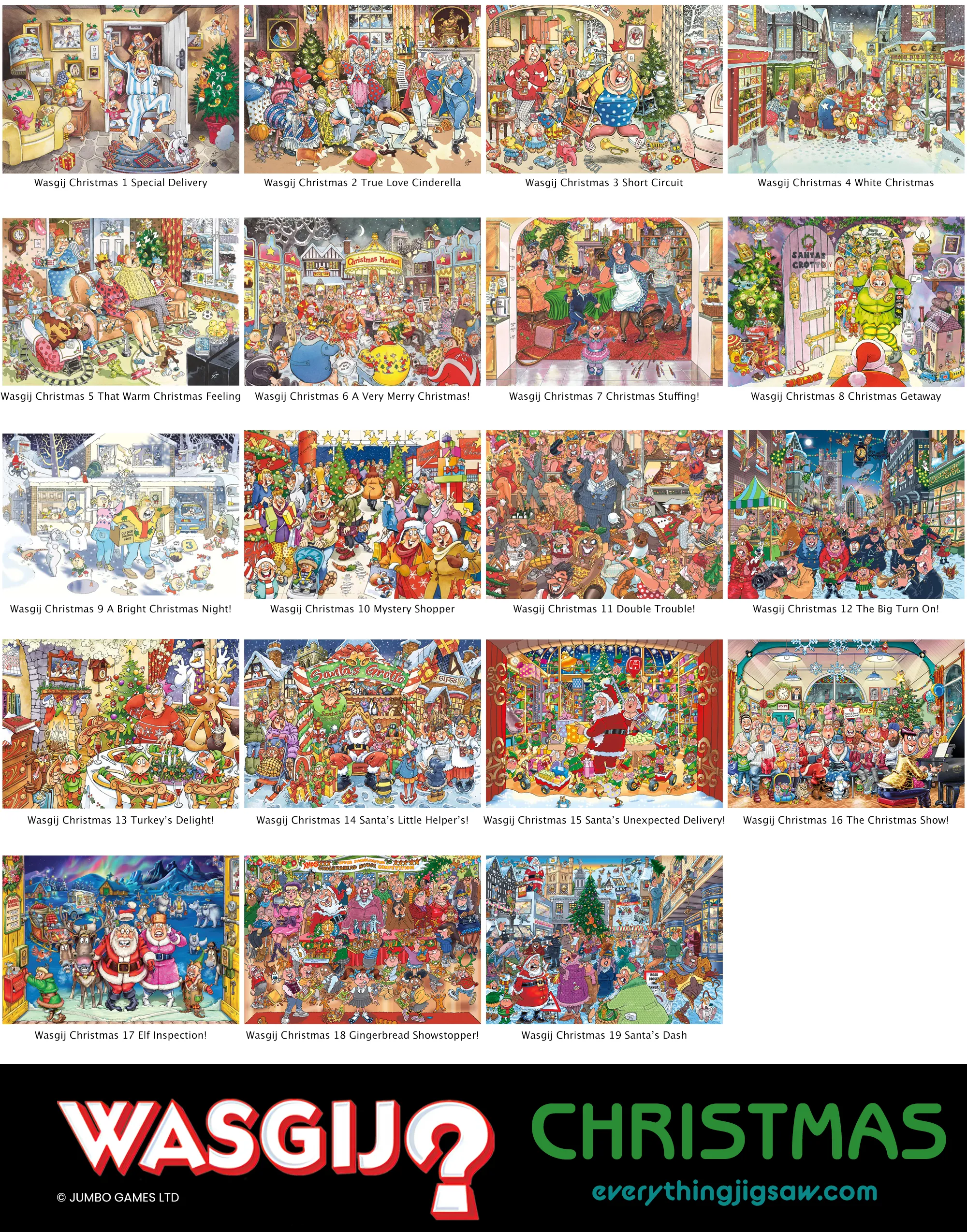 WASGIJ CHRISTMAS solutions and latest prices
All Wasgij Christmas solutions & latest prices!